A Complete Guide to Celtic Engagement Ring Settings
Celtic jewelry has enchanted everyday romantics and celebrities alike for generations.
From Hollywood stars to cultural icons like Walt Disney, these intricate designs have left an indelible mark on the world of jewelry. Legend has it that Walt Disney's beloved Claddagh ring, a gift from his wife, held a special place in his heart, symbolizing love, loyalty, and friendship.
Beyond the glitz and glamor of the red carpet, Celtic engagement rings have significant allure. They're not just rings; they're gateways to tradition, symbolism, and everlasting love.
Today, we're sharing what makes Celtic engagement ring settings so special. We'll share some of the most popular styles and share tips on selecting the best setting and center stone.
Whether you're a jewelry enthusiast or just curious about the magic of Celtic designs, we'd love for you to join us on an enchanting journey into the world of Irish engagement rings.
The Meaning of Celtic Jewelry
Celtic jewelry, including engagement rings, is more than just adornment. People who love wearing this stunning jewelry embrace it as a way to express love, heritage, and tradition.
First, a Celtic engagement ring connects its wearer to a rich cultural history. Different design elements convey symbols and deep messages.
The design of Celtic jewelry speaks of timeless love. The Celtic knot symbolizes unity and the enduring nature of human relationships.
Each piece tells a unique story. It's this feature and the others we've mentioned above that make Irish engagement rings a cherished, meaningful choice.
What Makes Celtic Engagement Rings Unique
When you choose Celtic wedding jewelry, you're selecting something you won't find in most jewelry stores. And while traditional wedding sets are beautiful, they're not always unique.
Many couples choose rings based on trending styles. This often results in pieces that aren't unique. Celtic engagement rings are unique due to several features, including:
Rich Symbolism
Deeply rooted in Celtic history and mythology, Celtic designs are rich in symbolism. Each element, from knots to Claddagh, carries its own unique meaning. This feature adds depth and significance to the ring.
Artistry and Craftsmanship
When you enjoy the beauty of Celtic jewelry, it's because of the artisans. These talented jewelry makers have a reputation for craftsmanship. The attention to detail in the Celtic knotwork reflects their dedication and skill.
Cultural Heritage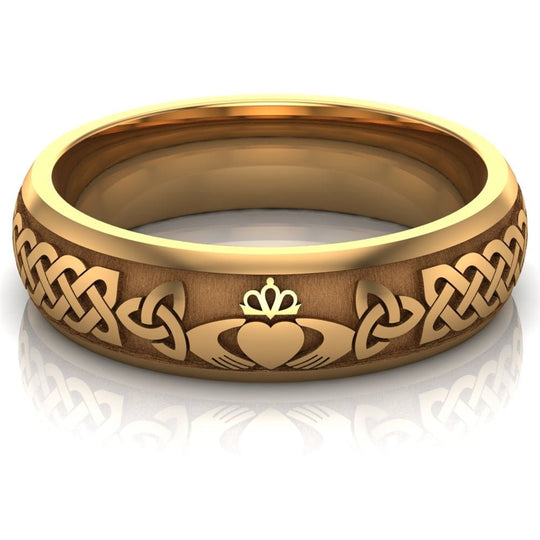 Celtic engagement ring settings and wedding rings are a beautiful way to celebrate Celtic heritage and ancestry. Wearing an intricately designed piece of Celtic jewelry offers a connection to Celtic roots.
This is what makes Celtic wedding jewelry so meaningful for couples with Celtic backgrounds.
The timeless designs of Celtic rings mean they'll remain relevant for generations. You're choosing one today at the beginning of your love story. Your Celtic ring will still turn heads years from now.
Celtic Engagement Ring Settings
Choosing the settings for your ring usually comes first. These three gorgeous settings stand out:
Traditional Claddagh Ring Setting
The Claddagh ring is a classic Celtic design. It features two hands holding a heart with a crown on top. Claddagh symbolizes love, loyalty, and friendship. If you fall in love with this setting diamonds, emeralds, or sapphires make stunning center stones.
Trinity Knot Setting
If you're looking for a timeless Celtic symbol, consider a ring with a Trinity Knot. Rings with this setting often have intricate, interwoven knots on the band. Many couples choose a setting with a center stone surrounded by the Trinity Knot.
Celtic Knotwork Setting
Celtic knotwork is famous for its endless, intertwined patterns. The Celtic knot symbolizes eternal love and connection.
You can have knotwork as part of the band. Or you can have the ring designed with the knot in a halo around the center stone. Engagement ring gem settings often feature emeralds.
Couples with Irish roots choose emeralds to pay homage to their Celtic heritage.
Tips for Choosing the Center Stone
The Celtic solitaire engagement ring features a simple yet elegant design. The band may incorporate subtle Celtic motifs or engravings, highlighting a stunning center stone. Diamonds are a popular choice for center stones, symbolizing purity and eternity.
Emeralds are also popular for Celtic wedding jewelry. An emerald center stone brings to mind the lush green landscape of Ireland. Emeralds symbolize rebirth, love, and protection.
Blue sapphires represent loyalty and fidelity. These blue stones are perfect for couples looking for a meaningful center stone.
Choosing a center stone based on your birthstone or your partner's birthstone can add a personal touch to the ring.
If your birthstone is the Peridot, for August, you're in luck. What a beautiful way to include the green symbolism of Ireland.
Don't shy away from colors not often associated with Irish engagement rings. For example, a shimmering red ruby makes a wonderful stone to complement a Celtic setting.
Custom Celtic Rings Add a Special Touch
Custom jewelry is another way a couple can make a statement of their unique love story. One popular way to customize Irish engagement rings is to have them engraved.
Many couples ask their jewelers to engrave their names and wedding dates on the inside of the engagement or wedding ring band. Some prefer a few words that have special meaning.
One interesting way to customize your ring is with Ogham engravings on the inner or outer surface of the ring band.
Ogham is an ancient Celtic script. Couples can have their names or special messages engraved in Ogham. It's a meaningful and unique way to make your ring your own.
Various gemstones, including diamonds, emeralds, sapphires, and rubies work well in custom Celtic rings. Of course, you can also incorporate birthstones into a custom ring.
Wear Your Love Story on Your Hand
Celtic wedding jewelry has a rich history. The symbolism of Irish culture represented in the Trinity and Celtic knots is something anyone can enjoy, but is especially significant if you have Celtic roots.
Explore Celtic engagement ring settings at CladdaghRing.com. We're the largest online retailer of Celtic rings. Discover the perfect symbol for your love story and let your journey into the magic of Celtic wedding jewelry begin.
---