Alexandrite Birthstone Claddagh Ring Buying Guide
It can be challenging to find the perfect gift for your loved ones — especially if they enjoy jewelry. The sheer amount of options can be overwhelming. But no jewelry is as dignified, culturally rich and stunning as the Claddagh ring. And when paired with the Alexandrite birthstone, one such ring is truly a gift to remember.
Are you looking to purchase a June birthstone Claddagh ring for a wedding anniversary present, birthday, engagement ring, or another meaningful event? Read on to learn more about exquisite Alexandrite claddagh rings from CladdaghRing.com.
What Is Alexandrite?
Alexandrite is a fascinating stone with an even more fascinating history. As some history buffs may already know, the Alexandrite stone was discovered in 1834 and was unearthed in emerald mines near the Tokovaya River in the Urals. According to the story, its finders discovered the gem the same day Russian Tsar Alexander II came of age, which is why it was named Alexandrite.
While the pearl was actually the June original birthstone, Alexandrite is the modern birthstone gem for those born in June. It comes from the mineral chrysoberyl and, as a result, has an incredible light purple hue that wows and amazes jewelry lovers worldwide.
Though it comes from chrysoberyl, it's a rare variety of chrysoberyl and is a pleochroic stone, which changes colors depending on the setting and light. For example, in daylight, Alexandrite appears greenish-blue to dark yellow-green, but it takes on a more reddish hue in incandescent lighting.
For this reason, this is a top-rated stone as it's ever-changing. In addition, it's also popular because it's so valuable, rare and unusual.
Not only that, but Alexandrite is also very hard and durable. Because of this, the Alexandrite stone is an excellent choice for a wedding or engagement ring (as well as for those who tend to be more clumsy and rough with their jewelry.)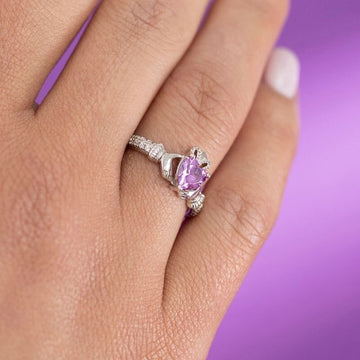 The Alexandrite Claddagh Ring
Our Alexandrite Claddagh ring is a stunning Claddagh birthstone ring specially designed for your loved ones born in June.
This gorgeous silver birthstone ring features 28 stones with a vibrant, eye-drawing heart-shaped center. Crafted in Ireland, the stone's sleek and elegant design will shine on any finger.
Be amazed by its sharp silver design, and impress friends and family with how magnificently this ring sparkles and shines. The Alexandrite stone is the perfect pairing for the Claddagh ring as its premium light purple color complements both the elegant Claddagh design and the stunning sterling silver.
The Claddagh ring with a birthstone is the perfect fit for anyone looking to solidify their commitment to their love story or simply as a gift to celebrate a loved one. And that makes these gorgeous pieces the ideal birthstone rings for June.
So, if you're searching for a ring with a birthstone, look no further. Our Claddagh ring June birthstone pieces are just waiting to be gifted to your loved one today.
June Birthstone Silver Claddagh Pendants & Necklaces
Are you looking for a Claddagh birthstone necklace? If so, look no further as we proudly present our Alexandrite Claddagh necklace.
Are you looking for a Claddagh birthstone necklace? If so, look no further as we proudly present our Alexandrite Claddagh necklace.
Created in Ireland, this authentic Claddagh pendant makes for a special birthday, anniversary or graduation present. In addition, the striking Alexandrite gem will catch eyes with its elegant purple color.
June Birthstone Silver Claddagh Earrings
If you're on the hunt for the perfect gift that will stand out from the crowd, you'll be thrilled to find our June Birthstone Claddagh Earrings. Not only is this a meaningful gift with a superb design, but the tear-drop shape represents love, loyalty, friendship and ties that bound loved ones together.
Authentically made and crafted in Ireland, these earrings feature a french hook style wire and are built with quality sterling silver.
June Birthstone Wedding Rings
Another excellent use for this one-of-a-kind birthstone is to create a custom wedding ring. Nothing says I love you quite like the personalization and care of embedding a wedding ring with your loved ones' birthstone. Not only does the delicate color work well with any ring color, but the thought of celebrating their ring with the symbolism of them as a person is a detail any spouse would happily appreciate. Personalize your wedding or engagement ring with a Claddagh ring birthstone today.
How To Wear Alexandrite Claddagh Rings
If you know anything about Irish birthstone jewelry and rings, chances are you've seen the Claddagh ring design, where two hands clasp a heart below a crown.
While many people probably recognize this design, many don't know what these elements represent. In classic Irish mythology, these three elements make up love, friendship and loyalty. Thus, the heart represents love, the hands friendship and the crown loyalty.
There is also a specific way to wear a June birthstone Claddagh ring too. In most cultures, the way you wear the design comments on the wearer's romantic availability or that they're currently seeking a relationship.
If the ring is on the right hand and the heart is facing outward (away from the body), the wearer is not in a committed relationship and is available for romantic prospects. Because the heart faces away from the wearer, the ring symbolizes that this person is open to finding love.
Alternatively, when birthstone Claddagh rings are worn on the right hand with the heart facing toward the body, it indicates that the wearer is in a committed relationship and is unavailable.
You can wear the ring on the left hand, too. If facing outward, the wearer is engaged. If the ring is on the left hand facing inward, that means the person is married.
Why Claddagh?
As one of the most recognizable jewelry symbols and designs today, purchasing a Claddagh ring or other accessories is the perfect way to show someone you love them (especially if they're someone who is of Irish heritage!) This is your way to celebrate and love not only that person but who they are and where they come from.
Each design is elegant, delicate and beautiful, and is bound to wow not only those to whom you give the piece but will amaze others with its beautiful stone and simple yet attractive design.
Find the Perfect Birthstone Claddagh Ring at CladdaghRing.com
Birthstone Claddagh rings make for a wonderful present for any person who values style, grace and tradition. At CladdaghRing.com, we offer a wide variety of Claddagh jewelry, including necklaces, bracelets, earrings and more. Celebrate your Irish roots (or your love for Irish culture and history) by purchasing Claddagh Irish birthstone jewelry today.
Shop Claddagh Birthstone Jewelry
---