How to Choose a Claddagh Wedding Band: A Complete Guide
The oldest known Claddagh ring in existence dates back to circa 1700. The gold ring currently resides in a collection at the Galway City Museum in Ireland and bears the maker's mark of Richard Joyce, a famed Irish goldsmith. The ring's clasped hands around a heart with a crown are thought to symbolize love and friendship.
In the modern era, this ring still has great meaning as a symbol of love, friendship, and even devotion. This is especially true when it comes to a Claddagh wedding band.
Choosing a Claddagh wedding ring is an important decision with many elements to consider. If you need help picking out the perfect Claddagh ring for your wedding, keep reading below for more helpful information.
Understand the Claddagh Ring Symbolism
The Claddagh ring is more than a piece of jewelry. It is a piece of artwork and culture that is rich in history and symbolism. A Claddagh wedding band contains three main symbols:
The Heart- for love
The Crown- for loyalty
The Hands- for friendship
When you are buying a Claddagh engagement ring or wedding band for someone, you are pledging them your love, your loyalty, and your friendship. These three things are crucial for a long-lasting relationship.
Another important element is how to wear a Claddagh ring. A Claddagh engagement ring is traditionally worn on the left hand with the tip of the heart facing outwards towards the fingernails to indicate engagement.
When you are married, the Claddagh wedding band is worn on the left hand. The tip of the heart turns toward the wrist to state that you are spoken for.
Specify Your Ring Design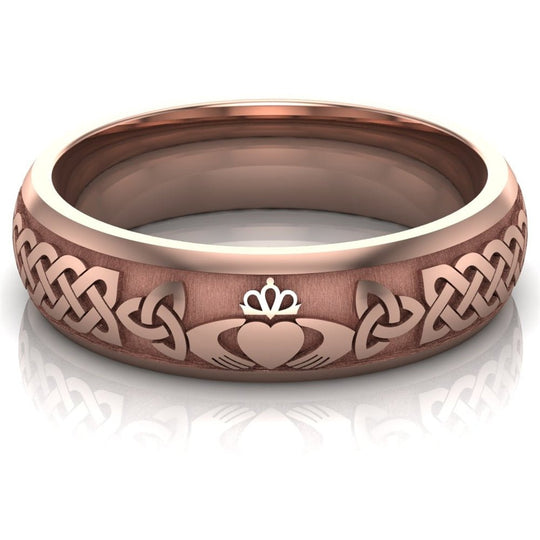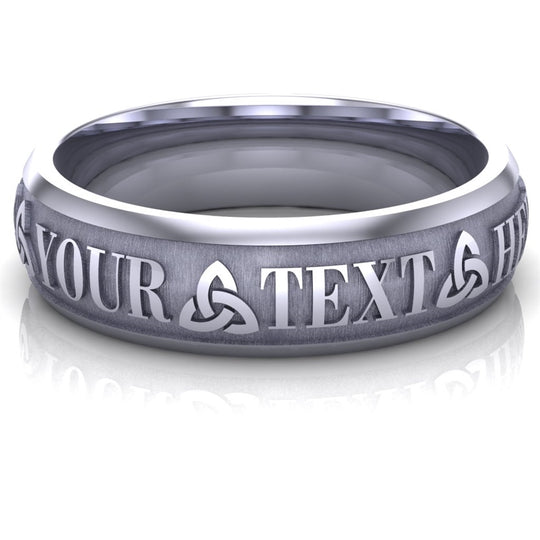 Your Claddagh wedding band is an extension of who you are as a person. So it is important to select a ring design from the types of wedding bands available that reflects your personal style.
If you're a more modern or non-traditional bride, you will most likely choose a wedding band that has a sleek and contemporary look to it with little to no embellishment. A traditional bride, on the other hand, may seek out a Claddagh wedding band with shiny metal and decorative elements like diamonds or gemstones.
Every couple is different. You should feel free to make your ring your own.
Select Your Metal Type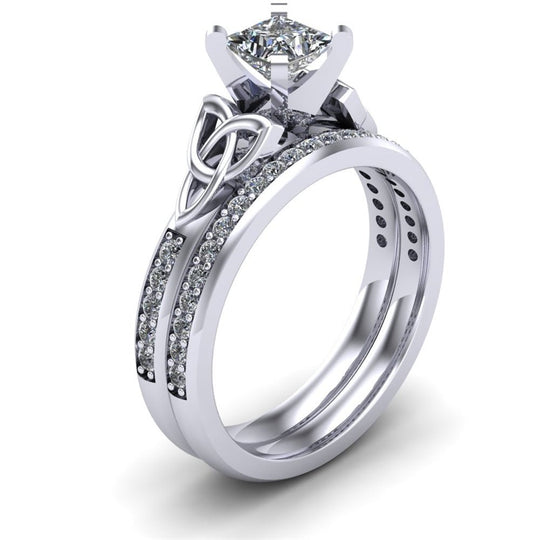 There are several different types of Claddagh wedding band and Celtic engagement ring metals to choose from. The type of metal you choose will vary based on you and your partner's personal style preferences.
The most common types of metals for wedding and engagement rings are:
Yellow Gold
White Gold
Rose Gold
Platinum
Palladium
Titanium
Each metal type gives off its own style aesthetic. For example, rose gold has more of a vintage vibe, while yellow gold is often considered to be more traditional styling. White gold, palladium, and platinum with their cooler silver coloring are seen as more contemporary wedding and engagement ring metals.
Set a Budget
Budget setting is a vital step in the process of buying Claddagh wedding rings. You need to account for certain variables that can influence the overall cost.
For instance, some metal types can be pricier than others. Platinum can be nearly twice the price of yellow gold since it is a rarer metal.
Gold also comes in 10K and 18K varieties. Since a karat is 1/24 of the total of 24 karats of pure gold, 18k gold will be more expensive than 10k gold since it contains 75% pure gold vs. around 37.5% pure gold in 10k. The higher the karatage of gold, the more your wedding band will cost.
By setting a budget, you can still buy a beautiful Claddagh wedding band without worrying about overspending or getting buyer's remorse later on.
Pick Your Gemstones
Gemstones can be a great way to add a little extra sparkle to your Claddagh wedding band. If you want to go a more traditional route, there is a wide array of diamond Claddagh wedding rings to choose from.
These rings sparkle with GIA-certified conflict-free natural and lab-created diamonds. Choose from rings with one focal diamond. Or go glitzy with rings featuring a slew of shiny accent diamonds.
Precious and semi-precious gemstones like Emeralds, Sapphires, and Rubies can also add a beautiful pop of color to the ring's center stone. Claddagh Birthstone rings feature simulated stones made from CZ to offer more cost-effective solutions.
Determine Ring Size and Comfort
Choosing the right size for your Claddagh wedding band is essential. You want to ensure you have an optimum fit.
If you measure your finger and you are between two whole sizes, consider going with a half size, if available, as a happy medium. If there are no half sizes, a good rule of thumb to follow is to go with a larger ring size. It is often easier to resize a larger ring than it is to size a smaller one.
Another thing to consider is that your hand can change sizes throughout the day based on elements like temperature and salt intake. When it's cold, your fingers shrink but when it's warm, they can expand.
Consider Personalization
A wedding ring is a very personal design for couples. It's important to have a ring that is uniquely you. Choosing a custom Celtic wedding band allows you to include your own personal message on the outer band of the ring.
This can be anything personal to you and your spouse like your favorite Irish saying or blessing. It could also include the date of your wedding or the day you and your spouse first met or went on your first date. You can also put you and your spouse's initials on the rings.
Find Your Perfect Claddagh Wedding Band Design at CladdaghRing.com Today
Your wedding day is all about honoring the things that are the most important and the most sacred to you. If you want to honor your Irish heritage, a Claddagh wedding band is the best way to do this. You're also making the commitment of love, loyalty, and friendship to your spouse.
CladdaghRing.com is your source for high-quality and beautiful Claddagh wedding rings and other jewelry items. Our pieces are made in Ireland but are shipped to you from Colorado for added convenience and cost-effectiveness.
Shop our full line of beautiful Claddagh wedding rings and more on our website today.
---