The Ultimate Guide to Maintaining the Beauty of Your Gold Jewelry
Gold is a durable and long-lasting material, but like any precious metal, it requires some TLC to maintain its beauty. In this article, we will guide you through the essential steps to keep your gold jewelry as stunning as the day you first saw it.
Avoid Contact with Chlorine
Chlorine is gold's worst enemy. Repeated exposure weakens gold's structure, leading to breakage and damage. Keep your gold jewelry away from chlorinated cleaning products, swimming pools, and hot tubs. To safeguard against chlorine exposure, either remove your jewelry before engaging in those activities or invest in a waterproof storage container.
Store Your Gold Jewelry Safely
When not in use, store your gold jewelry in a safe place. Keeping it wrapped in a soft cloth or a separate jewelry box will prevent unwanted scratches or tangles. This is especially important for necklaces, which have a tendency to get tangled if not stored properly.
Keep Your Gold Jewelry Clean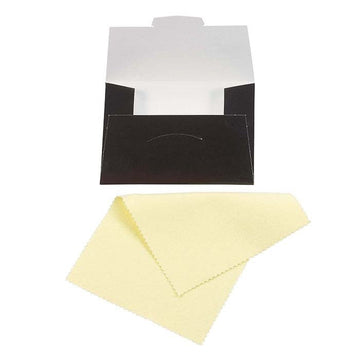 Clean your gold jewelry regularly to maintain its shine and luster. To make a cleaning solution, mix sudsy lukewarm water with a gentle dish soap. Soak your jewelry for a few minutes in the solution, then rinse it with water and dry carefully with a soft chamois or cloth. Alternatively, you can bring your gold jewelry to your local jeweler's for professional cleaning. Avoid harsh cleaners, especially those that contain bleach or ammonia, as these could damage your jewelry.
Avoid Exposure to Moisture, Makeup, and Other Chemicals
To prevent tarnishing, keep your gold jewelry away from moisture, perspiration, makeup, and other chemicals. Always remove your jewelry before applying makeup, lotion, or perfume,
Inspect Your Gold Jewelry for Damage
Check your gold jewelry regularly for any signs of weakness or damage. Inspect the prongs that hold your gemstones in place and look for any wear and tear on chains or bracelets. If you notice any issues, bring your gold jewelry to an expert jeweler immediately for repair to avoid further damage.
 Gold jewelry is a valuable investment that can last a lifetime with proper care. By avoiding exposure to chlorine, storing it safely, keeping it clean, avoiding exposure to moisture, makeup, and other chemicals, and inspecting your gold jewelry regularly for damage, you can ensure that it remains as radiant and beautiful as the day you first saw it. Remember to bring your gold jewelry to your trusted jeweler for repair and maintenance whenever necessary, and enjoy the timeless elegance of your gold jewelry for years to come.
---